Episodes List
Ep.1

Pilot
Air Date: 2012-10-10
When a fire claims one of their own, there's plenty of guilt and blame to go around. Lt. Matthew Casey, in charge of the Truck, tries to carry on, but butts heads with the brash Lt. Kelly Severide of the Rescue Squad - and each blames the other for their fallen team member. The firehouse also includes: Battalion Chief Wallace Boden, a fireman's fireman who is confronted by important personal decisions; paramedics Gabriela Dawson and Leslie Shay, who share a close bond and team together to face some of the most harrowing situations imaginable; Peter Mills, an academy graduate who is the latest generation in a family of firefighters; and Christopher Herrmann, a seasoned veteran who loses his home to foreclosure and now must uproot his family to move in with his in-laws.
Ep.2

Mon Amour
Air Date: 2012-10-17
Severide is hiding a serious shoulder injury sustained in the fire that killed Andy Darden, and grapples with his guilt as he fights to rescue a construction worker trapped in a building collapse. Adding to the burden, Darden's wife Heather turns on Severide at the annual firefighters' barbecue, blaming him for her husband's death. A call is made to an accident site at Hancock Tower, where two teenagers are pinned in a vehicle trapped beneath the falling debris of a broken window washer's cart. Meanwhile, Casey and Hallie work to figure out their future together.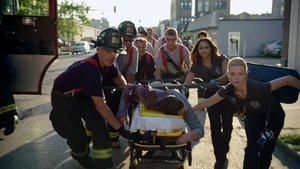 Ep.3

Professional Courtesy
Air Date: 2012-10-24
Casey faces pressure to cover for a cop's son, who was responsible for a drunken-driving accident that left a teenager paralyzed. Meanwhile, Severide ignores his doctor's warnings that his neck injury may never heal if he doesn't seek treatment; and Mills must choose between working at the fire department full-time or helping his mom with her restaurant.
Ep.4

One Minute
Air Date: 2012-10-31
Chief Boden is accused of leaving a homeless man to die in a warehouse fire after ordering his men to evacuate the scene, creating negative press and bad feeling within the department. Meanwhile, Lieutenant Severide helps an elderly woman facing some neighborhood problems. Detective Voight ramps up his intimidation tactics aimed at Casey in an attempt to discourage him from testifying against his son. Shay is forced to revisit her heartbreak over her ex-girlfriend Clarice, when she finds herself face-to-face with the ex and her husband during a call. Hermann's temper flares during a rescue call at a Halloween block party.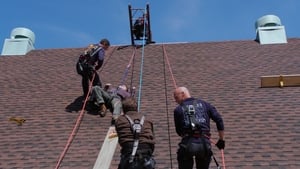 Ep.5

Hanging On
Air Date: 2012-11-07
Casey confronts Detective Voight about his harassing tactics, vowing never to back down, and ends up paying the price for his decision. Dawson faces disciplinary action for her on-the-job conduct. Meanwhile, Severide finds his arm failing him during a rescue at a construction accident, and reaches out to Anna, an old flame and pharmaceutical rep, hoping she might be able to help alleviate his injury problems.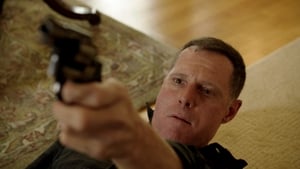 Ep.6

Rear View Mirror
Air Date: 2012-11-14
Facing suspension, Dawson gets a hand from the same girl she saved through the procedures that landed her in front of the disciplinary board. Lieutenant Casey finds his fuse shortening as Detective Voight stops at nothing to get him to retract his statement. However, when Casey lays his life on the line during an apartment fire, he may have unknowingly caught the break he was needing.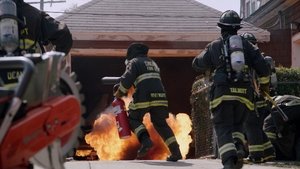 Ep.7

Two Families
Air Date: 2012-11-21
Everyone in the firehouse is ordered to take a drug test after a call to a daycare center exposes them to a makeshift meth lab, and Severide stalls, not wanting his injury, or the painkillers he takes, to be discovered. Meanwhile, Truck and Squad find themselves pinned down by gunfire while trying to help the victim of a gang shooting, and a deep-fried turkey fire grows from small to explosive when a garage catches fire. Elsewhere, Dawson saves a bleeding man and Casey delivers a baby on the scene of a massive car pileup on the freeway.
Ep.8

Leaving the Station
Air Date: 2012-12-05
At the site of a train accident, Peter Mills becomes deeply upset when he observes the dead body of a young victim. Unable to shake his emotional distress about the event, he questions his future as a firefighter. Dawson and Shay save a 6-year-old girl whose mother is abusing her – but their confrontation leads the woman to resort to dire actions. Meanwhile, Severide aggravates his injury while rescuing a heart attack victim and Shay sends Clarice, her married, pregnant ex-girlfriend, back home to her husband.
Ep.9

It Ain't Easy
Air Date: 2012-12-12
After he's injured in a terrible fire at an auto machine shop, Jose Vargas is forced to go on disability and leave his life as a firefighter behind - a task he finds incredibly difficult. Chief Boden tries to help a suspected teenage firebug. Also, Severide receives an enticing invitation from Renee, a woman who he saved from a car crash incident involving live electrical wires. Meanwhile, Cruz tries to save his younger brother Leon from the gang he is involved with.
Ep.10

Merry Christmas, Etc.
Air Date: 2012-12-19
After putting out a kitchen fire in an upscale townhouse, Casey, Herrmann, Mouch, Cruz, Otis and Mills find themselves accused of stealing a $50,000 diamond necklace from the home, touching off an internal investigation. Cruz's brother Leon is caught in the middle of an escalating gang war, leaving Cruz to make a desperate choice to save him. Meanwhile, Dawson invites Casey to her cousin's fancy Christmas party, and a frustrated Shay has reached her limit with Severide.
Ep.11

God Has Spoken
Air Date: 2013-01-02
Eaten up by his guilt over Flaco's death in the fire, Cruz goes to Casey to confess. While Shay recovers from a head injury sustained in the ambulance crash, Severide asks Dawson for her help in dealing with his own injury. Casey is caught in the middle of a family conflict between his mother and sister. Elsewhere, Herrmann finds a business deal hard to stomach.
Ep.12

Under the Knife
Air Date: 2013-01-09
Severide finally addresses Chief Boden about his injury and makes some important personal decisions about his future. Meanwhile, Casey struggles with family matters and Dawson takes matters into her own hands when she discovers a young girl who is the sole survivor at the scene of a rescue call.
Ep.13

Warm and Dead
Air Date: 2013-01-30
A troubled Chief Boden goes to the police when a man dies in a hardware store fire set by Ernie, the troubled teenage firebug he's been trying to help, and his Uncle Ray. Meanwhile, Severide decides on his future and reaches out to his father. Elsewhere, Otis finds camaraderie when he fills in for a few shifts at the slowest firehouse in the city, and makes a decision of his own, while Dawson and Shay find themselves in a bad predicament during a call to a tenement.
Ep.14

A Little Taste
Air Date: 2013-02-06
Severide finds that he shares a familiar past with Eric Whaley, the Lieutenant who was brought into the firehouse to help out. Dawson lets Shay in on her secret, while Casey deals with family issues. Meanwhile, a bad batch of heroin on the streets has Boden and the team scrambling, while Clarice and Shay find they have a new problem to overcome.
Ep.15

Nazdarovya!
Air Date: 2013-02-13
Dawson attempts to help her brother Antonio unravel the details of his drugs-and-gang investigation, and goes behind his back in turning to an unlikely source for assistance. Casey and his mother, Nancy struggle with their new relationship. Meanwhile, as a favor to Lieutenant Whaley, Severide visits someone important from his past, while Herrmann and Otis learn some hard truths about their "silent partner" in the bar.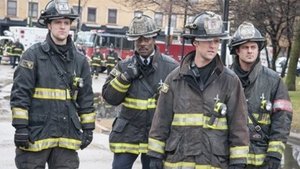 Ep.16

Viral
Air Date: 2013-02-20
The anguish that haunts Cruz over his previous actions boils over, as he puts himself and his fellow firefighters in jeopardy. Casey and his sister Christie try to solve their issues with their mother and each other. Meanwhile, Severide reaches out again to an important person from his past as a favor to Lieutenant Whaley and the squad gains new perspective after assisting the bomb squad on an extremely dangerous call.
Ep.17

Better to Lie
Air Date: 2013-02-27
Old emotional wounds are opened when Lieutenant Severide's father Bennie comes to town and clashes with Chief Boden over the death of their former colleague. Mills helps a distraught driver who caused an accident and Shay makes a decision about her future with Clarice. Meanwhile, Herrmann, Otis and Dawson get to the bottom of a mystery about their bar.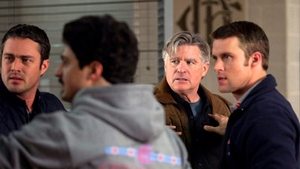 Ep.18

Fireworks
Air Date: 2013-03-20
With tensions still running high between Chief Boden and Bennie Severide, things boil over when Mills confronts Bennie about the fire that killed his father. Meanwhile, Severide, Casey and Bennie uncover the truth behind two mysterious diner fires and Shay takes a new direction with her plan to have a baby.
Ep.19

A Coffin That Small
Air Date: 2013-03-27
Tragedy strikes when a rescue attempt at a tenement building proves unsuccessful, leaving the men and women of firehouse 51 affected by the loss of the victim. Severide's decision to put Mills on the fast track to move from Truck to Squad doesn't sit well with some of the others and tension mounts between Severide and Casey over Heather Darden. Shay and Dawson are forced to deal with a junkie's crazy behavior while on a call and Shay considers a different way to have a family. Meanwhile, the team draws the ire of local drug dealers who threaten the peace and safety of the neighborhood and firehouse.
Ep.20

Ambition
Air Date: 2013-04-03
Mills finds himself the target of resentment from some colleagues when Severide supports his desire to join Squad. Tara, a paramedic candidate, joins Dawson and Shay on the job for a few shifts. Meanwhile, Shay comes to the aid of Cindy Herrmann, who suffers from pregnancy complications while her husband Christopher is out of town. Elsewhere, Dawson and Casey draw closer as the grand opening of Molly's draws near, and Casey receives a surprise visit.
Ep.21

Retaliation Hit
Air Date: 2013-05-01
Accused of sexual misconduct by a former paramedic candidate, Severide faces potentially dire consequences and fights for his survival both within the Chicago Fire Department and the legal system. Detective Voight returns, looking to collect on the favor that Dawson owes him for helping her brother, Antonio. Casey falls back into old patterns in his personal life, while Dawson, Herrmann and Otis become the proud owners of a real neighborhood bar as Molly's prepares for its grand opening.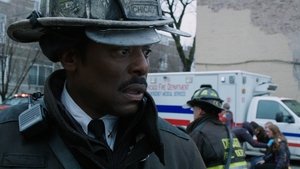 Ep.22

Leaders Lead
Air Date: 2013-05-08
A frustrated Severide, turns to an unlikely ally to resolve his current dilemma. Casey begins to find satisfaction in his personal life, while Mills and Dawson face personal challenges. Meanwhile, the squad is called to the scene of a harrowing apartment building collapse.
Ep.23

Let Her Go
Air Date: 2013-05-15
Events force Lieutenant Casey to team up with the Intelligence Unit, now run by Voight, who doesn't appear to have changed his crooked ways after his stint in prison. Shay's excitement at the prospect of becoming a parent grows, while Mills and Dawson face some personal challenges. Meanwhile, the house comes together to support the opening of Molly's.
Ep.24

A Hell of a Ride
Air Date: 2013-05-22
When a call comes in from the Cook County jail, the squad steps into a volatile predicament and are tasked with trying to defuse an escalating situation. Shay remains hopeful about her baby dreams and Hermann's wife Cindy goes into labor with their fifth child. Meanwhile, Mills and Dawson face key decisions in their personal lives.