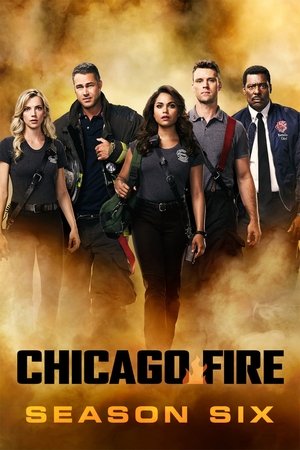 Episodes List
Ep.1

It Wasn't Enough
Air Date: 2017-09-28
With most of the squad still trapped inside the burning warehouse fire, Chief Boden makes a risky last-minute decision in an effort to save his men. Dawson continues to deal with her father, who has new plans for himself. Brett's childhood friend Hope visits the Windy City and strikes the attention of someone within the firehouse, while Kidd goes head-to-head with her landlord. Meanwhile, a fire at a high school hits close to home for Boden.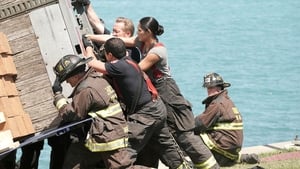 Ep.2

Ignite on Contact
Air Date: 2017-10-05
After learning the school fire wasn't an accident, Chief Boden turns up the pressure on Severide and Casey to investigate the cause of the fire that trapped his wife. Fueled by a competitive bet against Firehouse 87, Mouch pushes all of the wrong buttons in his need to win the competitive challenge known as the firefighter muster. Meanwhile, as Kidd settles into her new living arrangement, her unresolved feelings prompt her to question the intentions of newcomer Hope.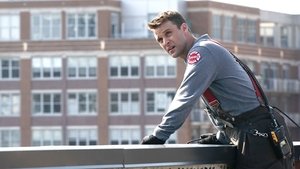 Ep.3

An Even Bigger Surprise
Air Date: 2017-10-12
Lt. Casey gets off on the wrong foot with Sam Mullins, a temporary Chief who is filling in for Boden at House 51 for the morning. When Casey later makes a risky move in an attempt to save a distraught man from jumping off a building, Mullins has a surprise that Casey does not expect. Mouch flies in Cruz's brother Leon as a birthday surprise, but the rest of the squad struggles to keep it a secret. Meanwhile, Brett is caught off guard when she learns new information about her hometown friend Hope.
Ep.4

A Breaking Point
Air Date: 2017-10-19
While running a secret errand, Dawson finds herself trapped in a collapsed parking structure. With all paths of exit blocked, she is forced to improvise and works double-duty to keep a number of injured individuals alive while trying to maintain peace among those trapped. Meanwhile, pressure is mounting on Casey as he begins to take on additional duties, Kidd grows increasingly skeptical of Hope after learning about rumors circulating and the firehouse receives a surprise visitor.
Ep.5

Devil's Bargain
Air Date: 2017-10-26
Casey and Severide find themselves at odds after Casey argues with him over the best way to save a teenager entangled in barbed wire. When Casey looks to Boden for help smoothing out the situation, he comes to the realization that he will have to fix it himself. Elsewhere, Otis tries to convince Casey to participate in the beta test for an expensive piece of new firefighting equipment imported from Japan. Meanwhile, Kidd and Hope come to blows over a payroll issue and Brett goes on a date with a doctor she meets during an ambo call.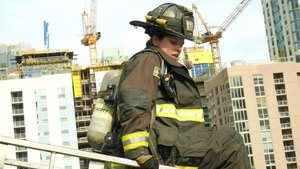 Ep.6

Down Is Better
Air Date: 2017-11-02
After heroically saving a mother and newborn baby from a rooftop fire, Kidd receives surprising news when she discovers she is being transferred out of the firehouse. Severide and Casey believe something is off about the turn of events, prompting them to investigate the situation. Otis and Herrmann discuss the possibilities of taking over a rundown bar and Dawson's frustration with her father, Ramon, reaches a boiling point.
Ep.7

A Man's Legacy
Air Date: 2018-01-04
Brett attempts to make a lifesaving decision in the field to someone near and dear to the firehouse family. In an effort to impress Lily, Otis scrambles to get everything together for the grand opening of Molly's North. Meanwhile, Boden becomes emotional following the rescue of a famous blues player from a burning apartment building and Dawson struggles to come to terms with how she has been dealing with her father.
Ep.8

The Whole Point of Being Roommates
Air Date: 2018-01-11
After saving a young girl, Dawson is forced to make a tough decision when she finds out the girl's father is addicted to painkillers. Herrmann loses his cool and gets into an altercation with a police officer after responding to a call. Otis and Cruz are on a mission to find out who Brett is dating. Meanwhile, Boden is skeptical when Donna's brother Julian unexpectedly comes to town.
Ep.9

Foul Is Fair
Air Date: 2018-01-18
After learning unsettling news, Dawson enlists Severide to help her out. Elsewhere, Casey and Dawson struggle with communication issues while Brett and Kidd compete to win the heart of Zach, a Hazmat officer. Meanwhile, Otis, Herrmann and Mouch are on a mission to locate the source of a horrible stench that is making life unpleasant at Firehouse 51.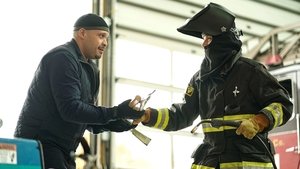 Ep.10

Slamigan
Air Date: 2018-01-25
Dawson and Casey do everything they can to locate Bria's whereabouts after discovering important new information. Lt. Severide reunites with Chief Grissom, and old family friend. Meanwhile, Cruz enlists the help of Brett and Mouch to create a new tool and Kidd and Zach go on a date.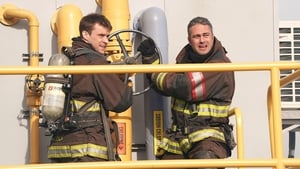 Ep.11

Law of the Jungle
Air Date: 2018-02-01
After responding to a time-sensitive rescue, Casey and Severide don't see eye to eye on the best course of action. Herrmann struggles to entertain his daughter on "bring your child to work day." Brett is joined by a surprise guest during a spa getaway, courtesy of Dawson, while Kidd's social life gets a boost.
Ep.12

The F Is For
Air Date: 2018-03-01
After photos of Casey and Severide jumping off the roof during a heroic rescue make the front page of the newspaper, Boden unwillingly agrees for the photographer to chronicle a day-in-the-life story at the Firehouse. Dawson and Brett are on a mission to find out what keeps happening to Gerald, a frequent flier they know who lives on the streets. Meanwhile, Herrmann decides to take up life-coaching as a side job and Kidd makes a decision regarding her living arrangement with Severide.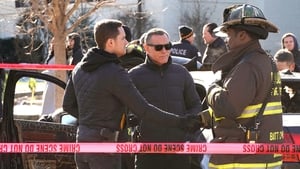 Ep.13

Hiding Not Seeking (II)
Air Date: 2018-03-08
While working to track down a bombing suspect, Voight and Antonio meet with Chief Boden, who unwillingly agrees to let Dawson and Brett go undercover. As the investigation continues, Boden, Casey and Severide lend their skilled expertise in the investigation. Elsewhere, Kidd and Zach's relationship hits a bump and Cruz has a hard time expressing his true feelings for Brett. Meanwhile, Herrmann and Connie are forced to come up with an alternative solution when two birthday parties are booked on the same day at the firehouse. The crossover starts on Chicago Fire S05E016 Profiles (I).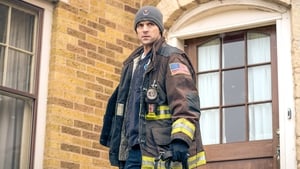 Ep.14

Looking for a Lifeline
Air Date: 2018-03-22
After responding to a car accident, Casey and Dawson become skeptical when a domineering husband continues to answer for his injured wife. Cruz becomes frustrated with Herrmann and Mouch when he discovers they have contacted people regarding his "Slamigan" invention without his knowledge. Kidd uncovers something meaningful and important to Severide while Brett discovers some potentially unsettling news.
Ep.15

The Chance to Forgive
Air Date: 2018-03-22
In response to a call involving a residential fire, Otis and Kidd's lives are suddenly put in jeopardy when gunfire goes off inside the house. Dawson comforts Brett during an especially trying time. Meanwhile, Casey begins to notice that romance might be going on within the firehouse.
Ep.16

The One That Matters Most
Air Date: 2018-03-29
The crew struggles to come to terms with an injury to one of their own; a temporary replacement must be dealt with; Boden ponders some interesting news; Kidd has a hard time keeping a secret.
Ep.17

Put White On Me
Air Date: 2018-04-05
Boden has a lapse in judgment in the aftermath of rescuing a young boy. Kidd struggles to win the approval of Severide's mom after a surprise visit and Otis takes on new responsibilities at the firehouse.
Ep.18

When They See Us Coming
Air Date: 2018-04-12
When the FBI takes over Firehouse 51 for an undercover mission, Casey and Severide volunteer to assist with the investigation. Kidd attempts to help Severide come to terms with recent developments he's been managing.
Ep.19

Where I Want to Be
Air Date: 2018-04-19
After responding to a residential fire at a property belonging to a Mexican drug cartel, Casey is skeptical of Cordova after a hefty amount of money was found missing from the crime scene. Elsewhere, Kidd makes a big decision.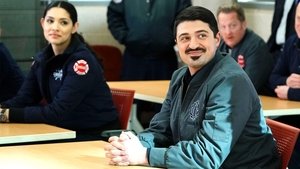 Ep.20

The Strongest Among Us
Air Date: 2018-04-26
After saving a girl from a car accident, Chief Boden and Lt. Severide are taken aback when they receive a surprise package. Brett struggles to keep quiet about Cruz reacquainting with his now-married high school sweetheart and Otis tackles his next challenge. A crisis brings Bria back into Dawson's life.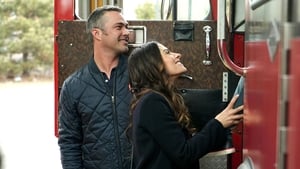 Ep.21

The Unrivaled Standard
Air Date: 2018-05-03
Lt. Severide is shocked when Rene Royce resurfaces; Casey comes up with a plan to help Chief Boden in his latest pursuit; Kidd regrets a decision she made regarding Severide; Herrmann clashes with Lt. Colannino over their son's basketball team.
Ep.22

One for the Ages
Air Date: 2018-05-10
Boden takes a big step in the pursuit of a major career decision. Kidd becomes increasingly distrustful of Renee's motives with Severide. Herrmann has trouble bouncing back after a tragedy.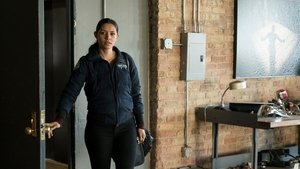 Ep.23

The Grand Gesture
Air Date: 2018-05-10
Boden's chances for a promotion are met with potential complications. Dawson and Casey don't see eye to eye on an important decision, while Kidd finds herself struggling to find time with Severide. Brett and Dawson respond to a tough call that quickly turns dangerous.